Food & Drink
Meet Your [Coffee] Maker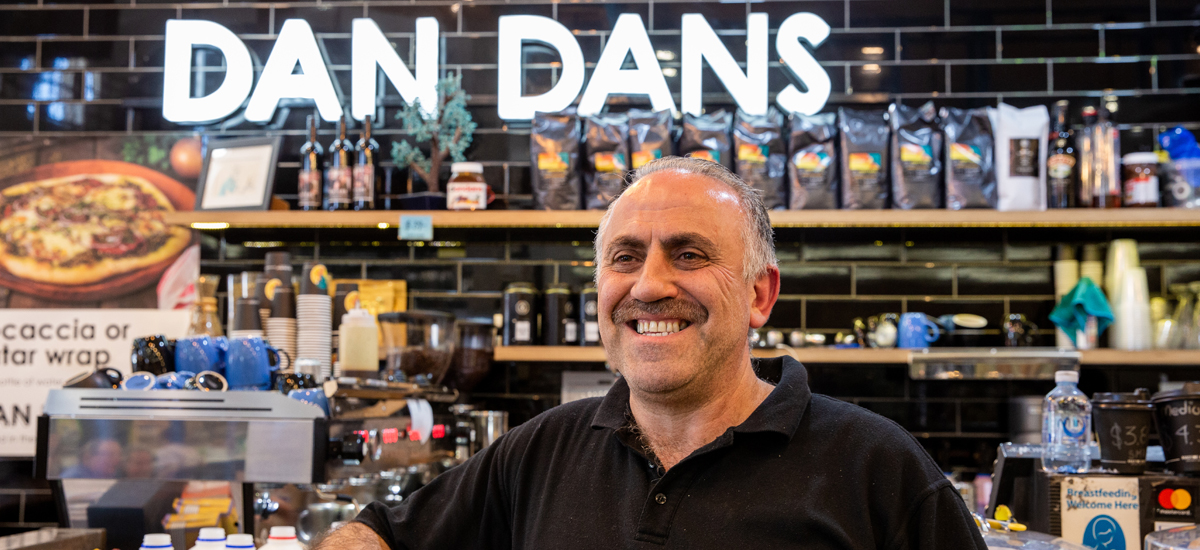 I recently sat down with one of our centre's biggest characters — Ali Ramadam, owner and manager of Dan Dans Café — to find out just how he won himself the title of 'troublemaker' (as well as so many café regulars).
What makes our centre such a thriving community is not so much the wonderful things we offer but the wonderful people who offer them. From the warm shop assistants and check-out staff, to the colourful owners and friendly hospitality teams fronting the countless delicious eateries — they're all important cogs in the Moonee Ponds Central Machine.
One of these friendly faces is Ali Ramadam, owner and manager of Dan Dans Café. I recently had the privilege of joining him for a chat, a few laughs and a mug of delicious coffee at his much loved eatery.
Judging from the throngs of loyal customers perched around us right now, Dan Dans Café isn't new on the scene — what's this little eatery's story?
Dan Dans first opened on the 15th of December 2010. Back then it was called Moonee Ponds Central Café but we wanted something catchier. We were thinking of names when my six year-old nephew, Daniel, came up to me said, "why don't you call it Dan Dans?" — the name I called him. And that's exactly what we did!
On the first day Dan Dans opened, I remember being really really surprised because went through over twenty kilos of coffee. We didn't know what to expect. I was also so surprised by how welcoming everyone was at Moonee Ponds Central. People didn't know who we were, so I had to do a fair bit of customer relations — I went outside and entertained the locals, the customers, and built a real network, you know. And now people come in and they say, "Where is he? Where's the troublemaker?"
There's a lot to love about our favourite shopping centre, present company and delicious menu included, but what do you love most about Moonee Ponds Central?
I love the friendly people, the atmosphere and the fun. Aside from being a business owner, I like to be involved in the social side of Moonee Ponds Central, that way it doesn't feel like a job for me.
I know every single person here. I'm a very very well known character! Everyone comes in and I'll sit down with them and shout them a coffee and we'll talk. Bakers Delight, Coles, the chemist across the hall, all the workers, they come here. And if someone's new, well go around and introduce ourselves and give them free coffee. Let's call it an incentive haha!
Aside from your close-knit group of tenants, who is a regular customer you always look forward to serving?
There are three customers that I really look forward to seeing and I give them hell — Val, Rod and Jim. And if I don't see them every day, something's wrong. They're locals and they always come for their daily coffee, have been for years. I think they come here because I disturb the peace and keep things fun!
If you could only eat one of your menu items for the rest of your life (and what a glorious life that would be), which one would you choose?
Easy. The vegetarian zaatar. We make it fresh here ourselves; it's our most popular dish.
When I opened Dans Dans, we always wanted a basic menu. We wanted something that people could sit down and enjoy with quick service and nice coffee. Things like salads, wraps, sandwiches and zaatars. We don't really have a set cuisine, but if I had to call it something I'd say Mediterranean — it's got a bit of Italian, a bit of Greek, a bit of Lebanese and a bit of Turkish.
Because I had cafés before in Chadstone back in the 80s and the 90s, I know to look around and see what's in and what's out. That's why we change our menu every quarter — to make sure our customers will always find something they love.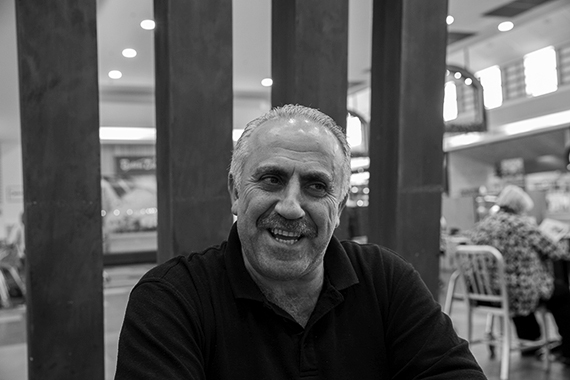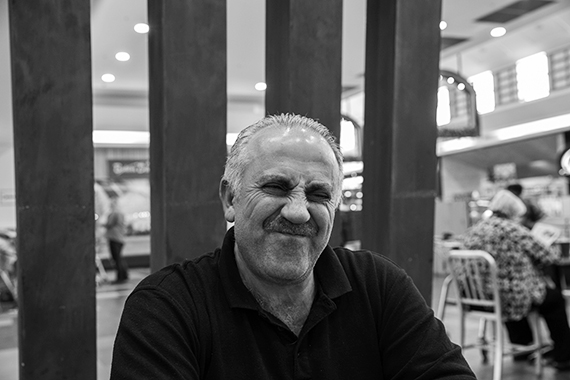 Here's a hard one for you — what has been the happiest moment of your life so far?
Meeting my wife. We've been married for 33 years and we have five beautiful, gorgeous girls. One of them used to work here at Dan Dans with me, but she's a professional photographer now with her own studio.
Something that's really special to me is that four of my daughters got married while we've been here at Dan Dan's. And all of my staff were invited! That's my biggest memory here at the café.
Aside from every day behind the counter at Dan Dans Café, what is your favourite day of the year?
My birthday — the twelfth of the twelfth. I try to take the day off if I can because my girls surprise me every year. They're doing it again this year, and again I have no idea what we're doing!


People say that if you love what you do, you'll never work a day in your life. Do you consider what you do 'work'?
No. It's a lifestyle, I simply enjoy being here. The day I call it work, I won't be here anymore. I've always had my own businesses, so I've never worked for anybody in my life. I started my first business when I was sixteen. Then I had two cafés in Chadstone for eleven years, and then I owned forty mobile phone shops for the next eleven years. For me, this job is more relaxing. Chadstone was busy, and twenty-four hour trade was the worst. I'm very happy here.
Everyone's always commenting on your upbeat and friendly team, how do your staff stay so happy?
I know! They always come in with a smile on their faces. I think it's because I treat them like friends and let them choose their own music ahaha. Retailers here often ask me how I keep my staff. How I keep them happy, keep them motivated, keep them here for seven, eight years. It's because they're more than staff to me, and keeping them happy and healthy is a priority. Take your staff out for dinner, have a laugh with them, be their friend, and they'll stay.
If you weren't the owner of one of Moonee Ponds Central's favourite cafés, which would be some very dark days, what would you be doing instead?
I'd be outdoors. I love it, I'm a camping person — I do it every fortnight, or at least once a month. I love New Zealand — for me, it's heaven on earth. I try to go camping with the boys every month, I'm going to New South Wales next week. And if I'm not camping I go away with my wife on the weekends, you know, to a winery or just somewhere new. I love my weekends, I never work them — unless I need to — it keeps me sane.
In your opinion, what's more important to a café's success — the people or the food?
I think both. You need to have the charisma, character and have that attraction for the customer, but you also need to serve great food. It has to be tasty and it has to be good. And you have to have good vibes so people enjoy being there and want to come back.
Now, I know you've always been your own boss, but if you have to choose someone to be yours, dead or alive, who would it be?
Ahaha great question! I've never ever had a boss in my life. It's awkward. I think it would have to be someone I don't know because I'd probably switch everything around and become the boss anyway haha.
If you want to be a good boss, you have to be trustworthy, honest, upfront, confident and very experienced. And if you want to be a boss in the hospitality industry, you also have to be friendly.
What are three words your staff would use to describe you?
Eighteen year-old. Hahahaha. They're always telling me I'm always acting like an eighteen year old! I tell them, "I'm 54 years old, but really I'm 27 years old with 27 years' experience".
Be honest, do you really think Melbourne serves the best coffee in the world?
Absolutely. I was telling the girls that when I started in the café scene in the late eighties, there were only three coffees: flat white, cappuccino and black coffee. There were no fancy coffees. And now on our system there are about 25. Plus about 25 different kinds of milks!
Alright, these next few questions are quite serious… What's your favourite food and what couldn't you be paid to eat?
The hot food bar here at Dan Dans is my weakness. But anything to do with the garden I love. My wife, she cooks a lot of fresh food from the garden. But the last food on my list would be spicy curry. I had a very bad experience once… My friend took me to the best Indian restaurant in Adelaide, it was really fancy and classy, and…it was not good.
What's your stance on pineapple pizza as a topping?
I love it. It's sweet and special.
If you had to give up one food — pasta or potatoes — what would you choose?
Definitely pasta. I'm a bit of a potato fanatic and I probably only eat pasta about once a month. I know, I know, it's crazy.
If Her Majesty The Queen were coming for dinner, what would you serve Liz?
Devonshire tea and some of our fresh scones.
And finally, what's one thing that would make Moonee Ponds Central better than it already is?
More public holidays haha!
Ali has been the face of Dan Dans Café for almost ten years (and the source of all centre-related mischief…), and his food is almost as famous as he is. If you'd like to meet him and try it for yourself, you can find the café's location and opening hours here.




INSPIRATION
Check this out